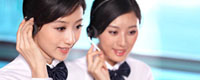 Skype: sindy6131
Skype: waynexu1989
E-mail: admin@queenswing.com




Product name : 5KW 48V Max. 500VDC PV input Solar Power Inverter with MPPT 80A charge controller(can work without battery)

Item : QW-5KW4880
Details:
5KW 48V Max. 500VDC PV input Solar Power Inverter with MPPT 80A charge controller(can work without battery)
Main Features
MPPT charge current:
80A (AC+Solar)
Max Ac charging current :
60A
Max. PV Array Power:
4000W
Wide PV input range:
Mppt pv voltage :120-450DC , max 500VDC
Can work without battery
Product Introduction
This is a Smart pure sine wave Solar inverter +MPPT solar charger+AC charger inside, high frequency techonlogy, 100% power, Configurable AC/Solar input priority via LCD setting.Wall mounted design. AC Output: 230V. Can work without battery at daytime.

1. Without battery status : If "solar first" is selected as output source priority and battery is not connected, solar energy and the utility will provide the loads.
2. AC failed status: can operate as an off-grid inverter to provide continus power even without the grid. It's a perfect power solutio for remote regions or temporary AC power source such as camping or night market.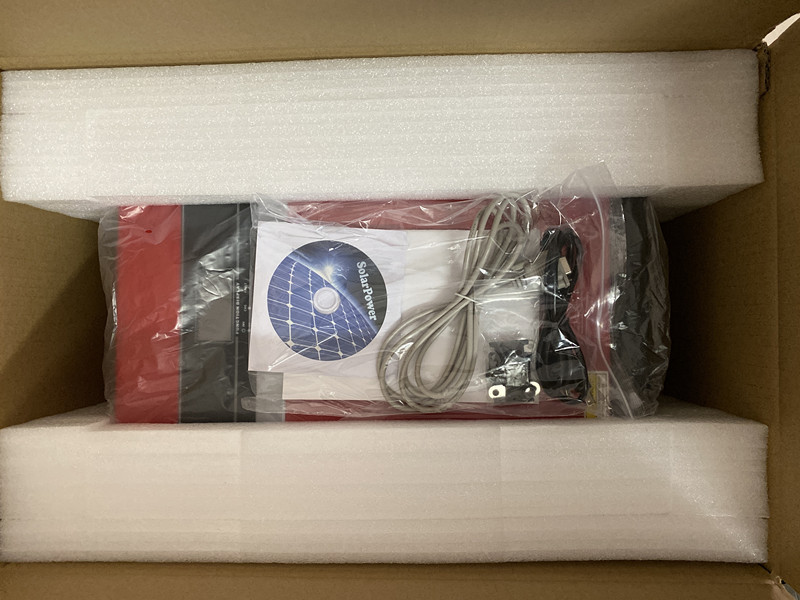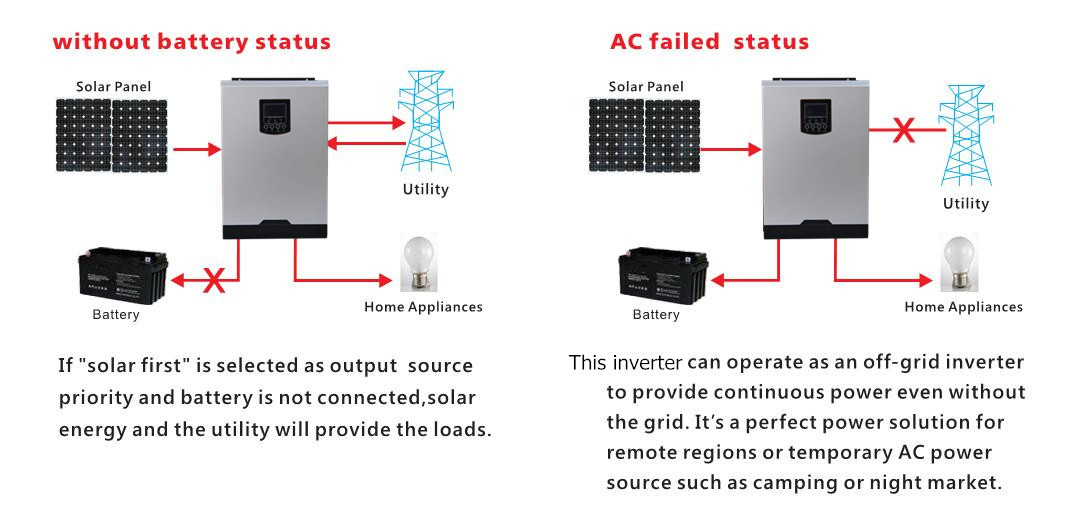 ​
​
Specification

This is a hybrid inverter, Equipped with 60A AC charger and 4000watt MPPT solar charger, Its comprehensive LCD display offers user-configurable and easy-accessible button operation such as battery charging current, AC/solar charger priority, work without battery, Its also have opposite connection protection .
Model

3.2KW

5KW

Rated Power

3200W

5000W

PV INPUT (DC)

Max. PV Array Power

4000W

Nominal PV Voltage

240VDC

PV Array MPPT Voltage Range

120--450VDC

Max. PV Array Open Circuit Voltage

500VDC

Max.Charging Current(AC + Solar)

80Amp

AC INPUT(AC)

Nominal input Voltage

230VAC

Low Loss Voltage

170VAC±7V(UPS);90VAC±7V(Appliances)

Low Loss Return Voltage

180VAC±7V(UPS);100VAC±7V(Appliances)

High Loss Voltage

280VAC

±7V

High Loss Return Voltage

270VAC±7V

Max. AC Input Voltage

300VAC

Nominal Input

Frequency

F

50Hz/60Hz(Auto detection)

Transfer Time

10ms typical(UPS);20ms typical(Appliances)

BATTERY MODE OUTPUT(AC)

Nominal Output Power

3KVA/3KW

5KVA/5KW

Surge Power

6000VA

10000VA

Nominal Output Voltage

230VAC

±5%

Output Waveform

Pure Sine Wave

Efficiency(DC to AC)(Peak)

93%

UTILITY CHARGER

Nominal DC Voltage

24VDC

48VDC

Maximum Charging Current

80Amp

Bulk Charging Voltage

Flooded Battery

29.2VDC

58.4VDC

AGM/Gel Battery

28.2VDC

56.4VDC

Floating Charging Voltage

27VDC

54VDC

OverCharge Protection

33VDC

63VDC

PHYSICAL

Dimension, D x W x H(mm)

100 x 300 x 440mm

Net Weight(kgs)

9

10

Communication Port

RS-232/USD

ENVIRONMENT

Humidity

5 - 95% RH (Non condensing)

Operating Temperature

- 10 to 55ºC

Altitude

0 - 1000m