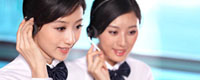 Skype: sindy6131
Skype: waynexux1989
E-mail: admin@queenswing.com




Product name : NEW double USB & LCD PWM Solar Charge Controller

Item : VS-AU Series

Price : Contact us
Details: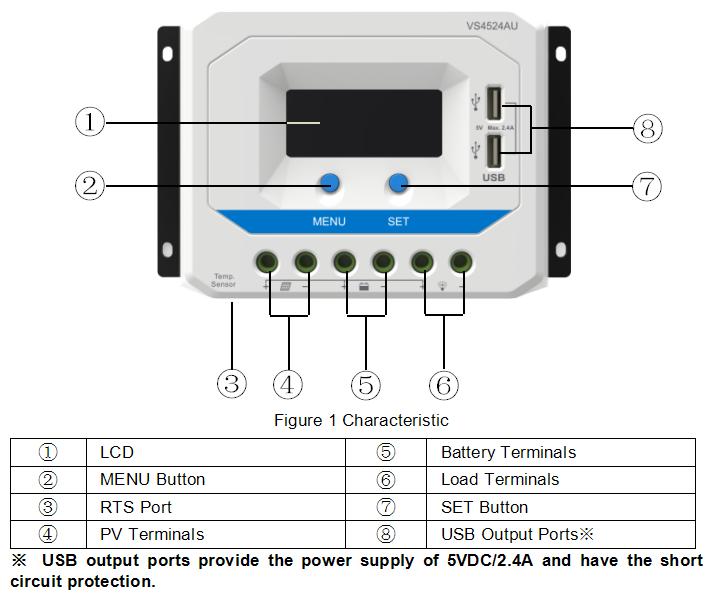 Wiring: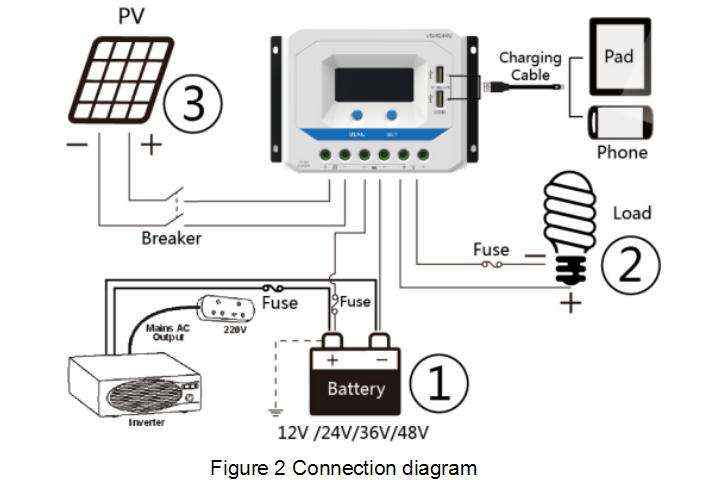 (1) Connect components to the charge controller in the sequence as shown above and pay much attention to the "+" and "-". Please don't insert the
fuse or turn on the breaker during the installation. When disconnecting the system, the order will be reserved.
(2) After power on the controller, check the LCD on. Otherwise please refer to chapter 6. Always connect the battery first, in order to allow the controller to recognize the system voltage.
(3). The battery fuse should be installed as close to battery as possible. The suggested distance is within 150mm.
(4) The VS AU series is a positive ground controller. Any positive connection of solar, load or battery can be earth grounded as required.
Parameters:
Item No.
VS1024AU
VS2024AU
VS3024AU
VS4524AU
VS6024AU
Nominal system voltage
12V/24Vdc AUTO
Battery input voltage range
9V

~

32V

Rated charge/discharge current
10A@55

℃

20A@55

℃

30A@55

℃

45A@55

℃

60A@55

℃

Max. PV open circuit voltage
50V
Battery type
Sealed(Default) / Gel / Flooded
Equalize Charging Voltage

※

Sealed:14.6V/ Gel: No/ Flooded:14.8V
Boost Charging Voltage

※

Sealed:14.4V/ Gel:14.2V/ Flooded:14.6V
Float Charging Voltage

※

Sealed/Gel/Flooded:13.8V
Low Voltage Reconnect
Voltage

※

Sealed/Gel/Flooded:12.6V
Low Voltage Disconnect
Voltage

※

Sealed/Gel/Flooded:11.1V
Self-consumption
≤9.2mA/12V;≤11.7mA/24V; ≤14.5mA/36V;≤17mA/48V
Temperature compensation
coefficient
(-3mV/

℃

/2V

(

25

℃)

)

Charge circuit voltage drop
≤0.29V
Discharge circuit voltage drop
≤0.16V
LCD temperature range
(-20

℃~

+70

℃

)

Working environment
temperature
(-25

℃~

+55

℃

(Product can work continuously at full load))

Relative humidity
≤95%, N.C.
Enclosure
IP30
Grounding
Common Positive
USB output
5VDC/2.4A(Total)
Overall dimension
142x85x41.5mm
160x94.9x49.3mm
181x100.9x59.8mm
194x118.4x63.8mm
214x128.7x72.2mm
Mounting dimension
130x60mm
148x70mm
172x80mm
185x90mm
205x100mm
Mounting hole size
Φ4.5mm
Φ5mm
Terminals
4mm2/12AWG
10mm2/8AWG
16mm2/6AWG
25mm2/4AWG
Net weight
0.22kg
0.35kg
0.55kg
0.76kg
1.02kg
※

Above the parameters are in 12V system at 25

℃

, twice in 24Vsystem, triple in 36V system and quadruple in 48V system.

Any changes without prior notice
Item No.
VS3024AU
VS4524AU
VS6024AU
Nominal system voltage
12V/24V/36V/48VDC AUTO
Battery input voltage range
9V~64V
Rated charge/discharge current
30A@55

℃

45A@55

℃

60A@55

℃

Max. PV open circuit voltage
96V
Battery type
Sealed(Default) / Gel / Flooded
Equalize Charging Voltage

※

Sealed:14.6V/ Gel: No/ Flooded:14.8V
Boost Charging Voltage

※

Sealed:14.4V/ Gel:14.2V/ Flooded:14.6V
Float Charging Voltage

※

Sealed/Gel/Flooded:13.8V
Low Voltage Reconnect Voltage

※

Sealed/Gel/Flooded:12.6V
Low Voltage Disconnect Voltage

※

Sealed/Gel/Flooded:11.1V
Self-consumption
≤9.2mA/12V;≤11.7mA/24V; ≤14.5mA/36V;≤17mA/48V
Temperature compensation coefficient
(-3mV/

℃

/2V

(

25

℃)

)

Charge circuit voltage drop
≤0.29V
Discharge circuit voltage drop
≤0.16V
LCD temperature range
(-20

℃~

+70

℃

)

Working environment temperature
(-25

℃~

+55

℃

(Product can work continuously at full load))

Relative humidity
≤95%, N.C.
Enclosure
IP30
Grounding
Common Positive
USB output
5VDC/2.4A(Total)
Overall dimension
181x100.9x59.8mm
194x118.4x63.8mm
214x128.7x72.2mm
Mounting dimension
172x80mm
185x90mm
205x100mm
Mounting hole size
Φ5mm
Terminals
16mm2/6AWG
25mm2/4AWG
Net weight
0.58kg
0.88kg
1.04kg
※

Above the parameters are in 12V system at 25

℃

, twice in 24Vsystem, triple in 36V system and quadruple in 48V system.

Any changes without prior notice