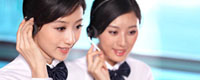 Skype: sindy6131
Skype: waynexux1989
E-mail: admin@queenswing.com




Product name : 12V/24V Lead-Acid Battery System Charge Controller

Item : CMD Series

Price : Contact us
Details:
These series controllers are suitable for 12V/24V lead-acid battery system, if you need other types of batteries, please feel free to contact with the manufacturer or agents to customize.
Features:
1. Use single-chip microcomputer control which makes the controller has the advantages of intelligent, strong adaptability, reliable function.
2. Use PWM charge mode, which can improve system efficiency and prolong the life span of the battery.
3. Clear charge state, discharge state and battery power display.
4. Adopts the modified shell which accords with air flow, has better cooling effect (compare with the old version).
5. Optimize the assembly design, the structure more stable (new shell uses 4 screws, old version use 2 screws).


Protection:
1. Over-load protection
2. Short circuit protection
3. Lightning protection4. Under-voltage protection
5. Over-charging protection
6. Reverse polarity protection

Technical Parameter:

Model
CMD-2410
CMD-2420
Rated charge current
10A
20A
Rated discharge current
Rated voltage
12V/24V
Over discharge voltage
10.5V/21.0V
Discharge recovery voltage
12.2V/24.4V
Voltage of stop charging
14.7V/29.4V
LED voltmeter
√
Working temperature

(-20

~

+60

℃

)

Temperature compensation

(-3mV/

℃

/cell)

Dimension of controller

103×95×38(mm)

(

L×W×H

)

Packing dimension

115×102×55(mm)

(

L×W×H

)

Weight

160g

~

180g
Installation:
Open the top cover of controller and connect the wire with terminals as the diagram on the top cover of it.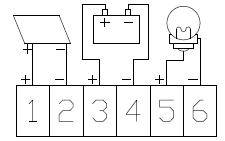 Please first connect the battery, and then connect the solar panel and the load in order.
The controller has reverse polarity protection internally, but if the connection error still may damage your controller.
Please make sure the voltage and current are within the rated range of controller.
Function Features: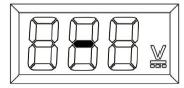 Charge: Charge indicator, when the Charge flickers, it means the controller is in the state of float charge or full charged.
Load: Load indicator, when the Load is ON, it means the load output is permitted, but it doesn't mean it has actual output current. When the Load flickers, it means the load output overload or short circuit.
LED display screen:
Battery voltage display: intuitively display the current battery voltage.
Battery under voltage display: when the battery is in the state of under voltage, a middle cross of the digital tube flickers as it shows in the figure. At this time the controller enter in the dormancy and power saving state.

Dimension: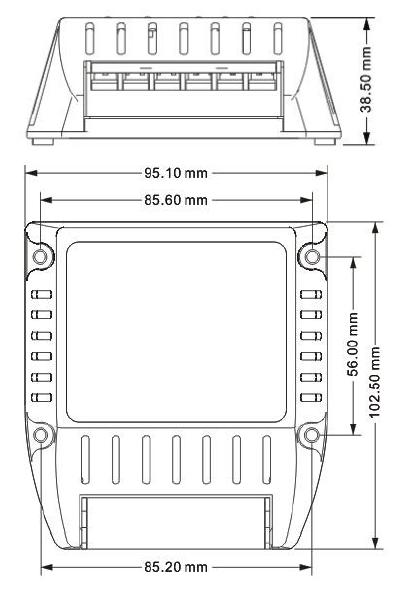 Products: