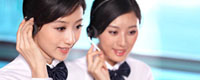 Skype: sindy6131
Skype: waynexux1989
E-mail: admin@queenswing.com




Product name : AUTO12V/24V/36V/48V Solar Charge Controller with LCD

Item : LG Series

Price : Contact us
Details:
Product introduction:
This controller is designed for DC power supply system, small and medium-sized pv modules power system, using a dedicated computer chip to realize the intelligent control, all chips adopt industrial level, can be used in harsh environment.

Meanwhile system offers specific indication for the charge, load , sorts of failure and various protections such as short circuit, over-load, over charge, particular anti-reversed polarity protection and so on, the controller used computer chip to sample the parameter of the battery voltage, photovoltaic cell voltage, discharge current and environment temperature.

According to the battery's character, realized the accurate control to discharge rate, correction of the temperature compensation through special control model calculation.charging with the intelligent PWM dim way and charging compensation in accordance with the current temperature of the battery, compensation factor is 3mv/℃/unit.LCM could show all of the parameters and modes.

Offer as many as five LED adjust way with lattice pattern to guarantee the battery works in the best status which could lengthen the service life of the battery. The controller has many work modes to satisfy different customer's request. Dial switch need to adjust if adopting different voltage system.


1. The controller carried with LCM module which can display system status and parameters
2. Begin to ascending charging automatically when the voltage of battery below the ascending charging recover voltage
3. Temperature compensation become more accurate due to Double temperature sensors design,inner temperature sensor test the inner temperature of the controller, outer temperature sensor test the outer temperature of the controller.
4. The controller could figure out everyday's power of charge and dischargewhich make user assess the controller and entire system more easily
5. With the charging current overload protection function, the controller will reduce the charge current to protect the charging circuit after it surpass the rated current.
6. A equalizing charge every 30 days in order to prevent battery vulcanization
7. Industrial-grade chips and precision components makes the controller can operate in any harsh environment
8. Design of double MOS series control circuit and PWM dim control make the charging efficiency increased greatly
9. The setting parameter possess the saving function which makes the parameter won't be erased after losing the electricity and system become more reliable.

10. Three kinds of load work mode: purely light-operated, light-operated+time PV Instruction, Load instruction, Temperature compensation controlled, long-term on mode.


Technical Parameter:

Model No.
SR-LG4830
SR-LG4845
SR-LG-4860
System voltage
12V/24V/36V/48V AUTO
Rate charge current
30A
45A
60A
Rate load current
No load loss

<

12mA

<

25mA

Charging circuit voltage drop
Less or equal to 0.5V
Discharge circuit voltage drop
Less or equal to 0.5V
Solar input voltage

<

140V

Re-entrant boost charge mode voltage
13.2V ×2/24V; ×3/36V; ×4/48V
Over voltage protection
17.0V ×2/24V; ×3/36V; ×4/48V
limited voltage for charging
15.5V ×2/24V; ×3/36V; ×4/48V
Equal charging voltage
Boost charge voltage +0.5V
Equal charging interval
30days
Direct charge voltage
14.4V ×2/24V; ×3/36V; ×4/48V

14.8V

、

14.6V

、

14.4V

、

14.2V

、

14.0V
×2/24V; ×3/36V; ×4/48V
Float charge voltage
13.6V ×2/24V; ×3/36V; ×4/48V

13.8V

、

13.6V

、

13.4V

、

13.2V

、

13.0V
×2/24V; ×3/36V; ×4/48V
Over discharge voltage
11.0V ×2/24V; ×3/36V; ×4/48V

12.0V

、

11.8V

、

11.5V

、

11.0V

、

10.5V
×2/24V; ×3/36V; ×4/48V
Over discharge recover voltage
12.5V ×2/24V; ×3/36V; ×4/48V

13.5V

、

13.0V

、

12.8V

、

12.5V

、

12.2V
×2/24V; ×3/36V; ×4/48V
Lower voltage indication
Over discharge voltage +0.5V
Equal charging time
1H
Boost voltage charging time
2H
1H-5H
Temperature compensation

(-3.0mv/

℃

/2V)

Light-control voltage
5V ×2/24V; ×3/36V; ×4/48V
Light control delay
10min
Controller over-temperature protection

>90

℃

Battery over-temperature protection

>55

℃

Working temperature

(-35

℃

to +85

℃

)

Control method
PWM
Time of lcd back- light auto shut down

30

(

s

)

Data auto transfer time

3

(

S

)

Time of Led lattice closed

25

(

S

)

Dimension
140×90×25(mm)
Weight
0.9kg
1.08kg
1.28kg
Accessories:
Temperature probe
1pc
Screwdriver.
1pc
Panel Figure: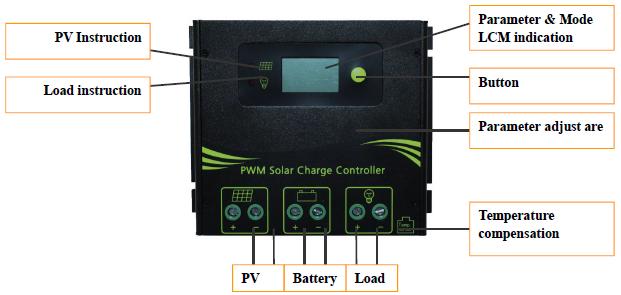 LCD Display: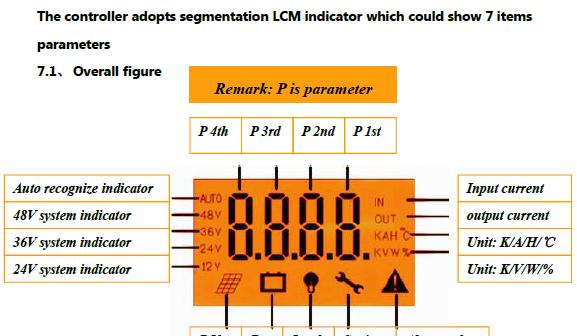 Operating mode:
| | |
| --- | --- |
| LED Display | Mode |
| 0 | Purely light-operated |
| 1 | Light-operated + time-controlled for 1 hour |
| 2 | Light-operated + time-controlled for 2 hour |
| 3 | Light-operated + time-controlled for 3 hour |
| 4 | Light-operated + time-controlled for 4 hour |
| 5 | Light-operated + time-controlled for 5 hour |
| 6 | Light-operated + time-controlled for 6 hour |
| 7 | Light-operated + time-controlled for 7 hour |
| 8 | Light-operated + time-controlled for 8 hour |
| 9 | Light-operated + time-controlled for 9 hour |
| 10 | Light-operated + time-controlled for 10 hour |
| 11 | Light-operated + time-controlled for 11 hour |
| 12 | Light-operated + time-controlled for 12 hour |
| 13 | Light-operated + time-controlled for 13 hour |
| 14 | Light-operated + time-controlled for 14 hour |
| 15 | Always on mode |
Products Picture: