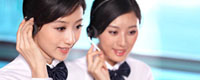 Skype: sindy6131
Skype: waynexux1989
E-mail: admin@queenswing.com




Product name : 12V/24V AUTO Street Light Solar Charge Controller

Item : SLC Series

Price : Contact us
Details:
Features:
1. Intelligent controlis realized by using microprocessor and dedicated control calculation.
2. Four load working modes: Pure lighting control, lighting control & timing control, hand operation and debug mode.
3. Scientific management of battery:as it is overcharged, the battery will get booster tension charge.
4. Comparing with the charging loops using diodes, the one that adopts double MOS series circuit control makes the voltage loss dropped by 50%.
With the PWM fuzzy control in charging, the charge efficiency is improved a lot.
5. LED screenshows the working state of solar battery, storage battery and load.
All the protections are harmless to any parts and fuse. TVS thunder proof protection is also available. Non wire jumpers design improves the reliability and durability of the products.
6. Various protections include: over-charge, over-discharge and over-load, as well as unique electron short circuit protection and connection-reverse protection
7. Technical grade chips and precision components are adopted for all the controls.
8. Digital LED display and one button setup make the device easy to handle.
9. Discharge rate revision controls: Different discharge rate matches with different cut-off voltage, which is in compliance characters of storage battery.

Technical Parameter:

Model

QWP-1410SLC

QWP-1420SLC

Rated current

10A

20A

Work voltage

12V/24V AUTO

Over load, short circuit protection

Over load protection action:

1.25times rated load current in 60-sec,

1.5 times rated load current in 5-sec;

Short circuit protection action: ≥3times rated load current

No load current

≤ 6mA

Charging circuit voltage drop

≤ 0.26V

Load circuit voltage drop

≤ 0.15V

Over voltage protection

17V, x2/24V

Work temperature

Industry stage: -35

℃

to 55

℃

Boost charge voltage

14.6V; x2/24V(keep 10-min)

(Only applied when overdischarge appears)

Direct charge voltage

14.4V; x2/24V(keep 10-min)

Float charge voltage

13.6V; x2/24V(keep working until drop to the point of charge return voltage action)

Charge return voltage

13.2V; x2/24V

Temperature compensation

(-5mv//2V(Boost charge, Direct charge, Float charge, charge return voltage)

Lower voltage indicate

12.0V; x2/24V

Over discharge voltage

11.1V no load-real-time modified voltage by the discharge rate; X2/24V

Over discharge return voltage

12.6V; 2/24V

Control mode

PWM

Dimension

144*75*45mm

Weight

165g
Model No.

QWP-1430SLC

Rated charging current

30A

Rated discharging current

30A

Short-current protection

60A

System voltage

12V/24V auto

Over current protection

<

1.3 maintain for 60s;

<

1.6 maintain for 5s

>

1.6 shut down immediately

Stand-by lost

<

5mA

Charge voltage drop

≤0.26V

Discharge voltage drop

≤0.15V

Max solar panel voltage

21V

Operating temperature

-35 degree to 55 degree

Equalize charging voltage

14.8V

Bulk charging voltage

14.5V

Acceptance charging voltage

14.2V

Float charging

13.8V

Charge return voltage

13.2V

Discharge stop voltage

11.2V

Discharge return voltage

12.6V

Temperature compensation

N/C

Control mode

PWM(Pulse Width Modulation)

Maximum wire size

12AWG

Size/Weight

140*95*33mm/250g
System indicator: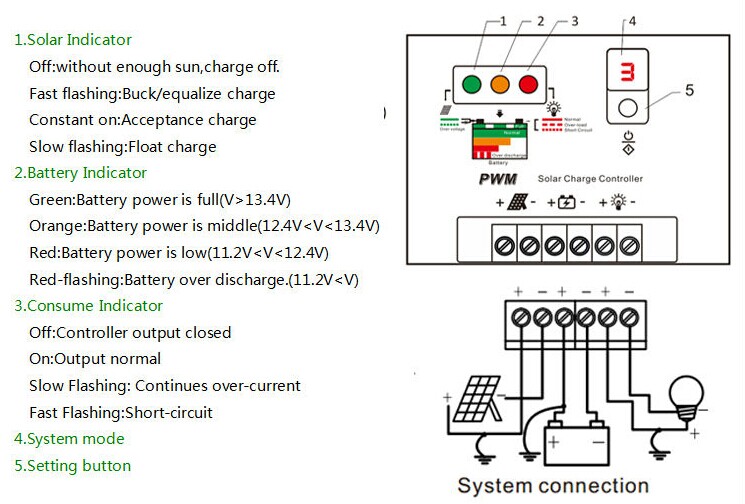 Protection: